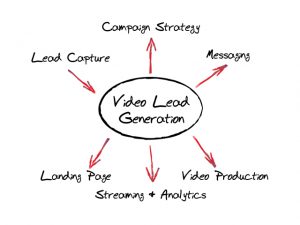 Video marketing works best when you show the right video to the right person at the right time. To do this you need to know when a lead is kicking the tires and when they are interested. You have to develop strategy that lays out when you should send specific leads specific videos to get them closer to buying your product or service. To create this strategy you need to know the stages of sales funnel for your leads. The 3 main stages in your sales funnel are lead generation, lead nurturing, and lead acquisition. Using video marketing techniques in your website, social media, and email campaigns will greatly increase your sales success as you move interested prospects through your sales funnel by showing the right people the right videos at the right time.
CREATING A VIDEO STRATEGY
You will need to create specific videos for each stage of your sales funnel..
Lead Generation Stage – A combination of Search Engine Optimization (SEO), Social Media, and Content Marketing works best to generate leads. Is your content easy to find on search engines? Are you engaging with your prospects on all of your social media channels? Are you capturing lead information in exchange for content? Are you creating relevant content for your prospects? Do you have the proper analytics and strategy in place to know it's time to start the lead nurturing phase?
Lead Nurturing Stage – Now that you've collected lead information, it's time to use manual or automated email campaigns that distribute relevant information about your products or services to your leads. Where are you capturing and managing the lead information? How are you sending relevant email campaigns to these leads? Do you have the proper analytics and strategy in place to know when a lead has been nurtured enough to starting the lead acquisition phase?
Lead Acquisition Stage – Now that you have nurtured a lead, it should be easy to close them. Once a lead is closed you will want to continue to send them email campaigns to educate and interact with them. This interaction will results in better retention and more referrals. Are you cultivating relationships with your existing clientele? Are you upselling and cross selling to your customers? Are you rewarding loyal customers?
LEAD GENERATION/NURTURING REQUIRES THAT YOU USE A TRUE VIDEO MARKETING PLATFORM INSTEAD OF YOUTUBE
For those truly serious about generating leads through video, a video marketing platform, like wistia, is a much better alternative to posting videos on Facebook or YouTube. If large scale branding or video monetization is your thing then YouTube and Facebook could be your option.
You'll want to use a video marketing platform if you want…
to know which leads should be sent follow up lead generation/nurturing campaigns
to get your website pages SEO results instead of social media sites like YouTube and Facebook
to collect contact information and analytics on your videos
to control where your videos are shown
to add annotations to your videos
to add calls-to-action to your videos
to brand your videos with your logo and colors
to add social sharing to your video
to have ad free videos
VIDEO ANALYTICS ARE KEY TO KNOWING WHEN TO SEND EMAIL CAMPAIGNS
Many companies are using YouTube or Video to host and stream their videos online. Forrester believes this method is insufficient because those services don't provide the analytics you need to identify, nurture, and convert viewers into customers. Video marketing platforms provide analytics into who is watching your videos, how long they are watching, and what sections of your videos are being re-watched.
YOUR VIDEO PLATFORM NEEDS TO BE INTEGRATED WITH YOUR MARKETING AND SALES TOOLS
A video marketing platform allows you to get analytics and contact information from your videos so that you can gauge which leads are hot and which are not. Getting this information is key but it's also super important that this information can be feed to your marketing automation platforms, like bulk emailing software and customer relationship management (CRM) systems. The marketing automation tools will help put a lead's video viewing and email interactions into full context. Without integrations between your video marketing platform and you marketing automation platforms, your lead generation/lead nurturing processes will rely on too many manual processes, which can bring the how strategy to a screeching halt.
YOU NEED MORE THEN A VIDEO PRODUCTION COMPANY TO PULL OFF A VIDEO MARKETING CAMPAIGN
Most video production companies produce your video, hand it over to you, and then quickly move on to their next client. They don't help you market the video, so a lot of companies just put the video on their website or upload it to YouTube and hope for the best! It's a huge waste of time and money because that video isn't going to create leads on its own. Videos need a strategy and a system to be able to create leads.
Main Street Marketing's Video Marketing Solution has the strategy and the systems in place to convert prospects into customers. We create strategy, produce videos, optimize them for search, create the right calls to action, collect customer information, and use marketing automation to create and nurture your leads.
Contact Us (859-904-8035) today to get started!
—
ABOUT MAIN STREET MARKETING
Since 2006, Main Street Marketing has been creating Internet Presence Solutions for small businesses mainly in the Cincinnati – Northern Kentucky area. Main Street Marketing uses internet marketing, search engine optimization, social media, lead generation, and video to create a true Internet Presence for its clients. When integrated correctly, this core group of services provide results together that none of the services could provide on their own or in phases.
>> Learn More