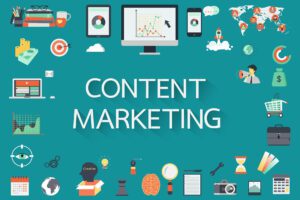 You must rate your marketing activities by return on investment to figure where to put your time and money to best use. If you spend $2,000 on Google Ads and their management each month and it brings in $3,000 in month then it's easy to say you made money. But the real question is… could you have made more money using content marketing along with online advertising to generate leads? The answer is yes because effective content marketing lets you convert more website visitors because the blogs, client result posts, and video convinced them to make contact. 
Understanding the Roles of Organic / Content Marketing and Online Advertising
At Main Street Marketing, view organic / content marketing as essential to conversion rates and view online advertising as an accelerator. Without the content and without the social proof on your website, no one is going to stick around, trust you, or contact you. Prospects want to know 80% about your company and your services before they they contact you. If you don't give them that info, they will simply go to he next website that does. Don't get stuck into the "here's my services, now call me" mentality because they WON'T. Don't get stuck into the "we're great at customer service" mentality because no one will trust you online without client results posts and reviews. Lastly, focus on your prospects and solving their problems with your solutions because nobody, other than your team, really cares that Debbie in accounting won the monthly "go getter" award.
When we mention that online advertising is an accelerator, we mean that if you don't have your website setup with content you will be wasting most of your ad budget. Once your website is consistently adding content each month by providing video, providing blogs, providing client results, and more you can then hope to get people to contact you. Without the content, they won't contact you. Once you have your website's house in order and you have the budget, it will be time to accelerate the amount of people that come to the website by using online advertising. If you don't have the budget for advertising then just keep doing what you're doing with the organic / content marketing since it is the long term goal. It will provide results, just not as fast. Just be very careful not to push people to a shell of a site that doesn't convert because it doesn't have content.
FINDING THE BEST TOPICS FOR YOUR CONTENT
Prospects will find your content and blog articles as they search to find specific answers to specific problems they are facing. You must put yourself in the shoes of your potential clients and think about what they will be looking for. Creating content and blogging is about getting leads so you have to have the right content available to your website visitors when they visit.
Topic Tips…
Know who you want to talk to
Know what problems they are having
Create a title that will get them to read your article
Follow through on real education. NO SELLING!!!!!
CONTENT IS THE FUEL FOR YOUR MARKETING MACHINE
Once companies start focusing their efforts on their creating content, they then use their content in email marketing, on their social media, and in their lead generation campaigns. It just becomes the way they do business. You teach prospects what they should know, then those prospects usually hire their teachers! Effective content is a key to increasing revenue, keeping overhead down, and increasing your profits.
WHEN TO USE ONLINE ADVERTISING ALONG WITH CONTENT MARKETING
Once you have established your Internet Presence and you are going for the more non-reachable fruit, online advertising can be a great strategy. With the right budget, Google Ads and Social Media Advertising / Retargeting will increase the results of both your ads and your Internet Presence. Just make sure you have a professional to manage your advertising program or you will be wasting money due to your inexperience. The small management fee is worth it every time. This is all a professional ad manager can help you…
Increase Your Conversions – The reason you are advertising is to increase your sales/leads and we can help you do just that
Decreasing Your Cost Per Click – We will review your current campaign and find ways for you to pay less per click
Increase Your Click Through Rate (CTR) – Low CTR's are due to incorrect targeting, poorly written ads, and irrelevant ads
Increase Your Quality Score – We analyse your campaign to find why your QS is so low for certain keywords and have ways to increase them
Decrease Your Cost Per Conversion – One of our main goals is for you to pay less for each sale/lead over time
Our Internet Presence Package is a Combination of Marketing Strategies that will help your company to teach and communicate better with its prospects and customers. Our Search/Social Advertising Services make sure you are getting the best ROI on your ad spend.
Contact us (859-904-8035) today to get started!
—
ABOUT MAIN STREET MARKETING
Since 2006, Main Street Marketing has been creating Internet Presence Solutions for small businesses mainly in the Cincinnati – Northern Kentucky area. Main Street Marketing uses internet marketing, search engine optimization, social media, lead generation, and video to create a true Internet Presence for its clients. When integrated correctly, this core group of services provide results together that none of the services could provide on their own or in phases.
>> Learn More