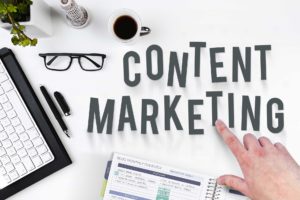 Digital marketing is all about connecting with your audiences on the internet. One of the best ways marketers have found to communicate with their audience is through content marketing. Content marketing is a marketing strategy used to attract, engage, and retain an audience by creating and sharing relevant articles, videos, podcasts, and other media. This approach establishes expertise, promotes brand awareness, and keeps your business top of mind when it's time to buy what you sell. Content marketing should be part of every business's growth strategy in today's digital landscape. 97% of brands use content marketing because it is the way consumers prefer to interact with and learn about businesses. It's a cost-effective, sustainable marketing method that nurtures your audience, answers their questions, and builds their trust. All of this will help your business generate better leads, have more conversions, and more sales.
Content Marketing Is The Future Of Your Business And Builds Authority On Your Own Platform
Content marketing helps you create connections while avoiding less successful "hard sell" approaches. Nowadays, it's difficult to stand out and break through the noise of constant marketing messages. Trust is now an essential factor in buying decisions. Where does all this happen? On your website, through the content, you publish there.
Social media platforms are owned by large corporations (Facebook, Instagram, LinkedIn, Twitter, etc.) and the content marketing platform is one of your own.
Publishing on your website means you own all the content: That is not true for social media. If by chance a social media platform goes up in smoke, your content goes with it. This is like building a house on rented land. If your account on social media gets hacked or taken down arbitrarily, your content vanishes but more importantly your audience and your means of communication disappear also. That is why content marketing is a better and more sustainable option for growth.
Content Marketing Grows Trust With Your Audience, Like No Other
Building trust with your customers is one of the most important things you can do for your business. In addition to potentially boosting revenue, trust can be a great barometer of growth. Companies are in a position to develop stronger relationships with their customers than they've had in the past. The key to doing it well is to have the right strategy. Content marketing is not about selling but rather about helping. Helping your audience with useful, personalized content showcases not just the brand's expertise, but also its empathy. Empathy shows your care and understanding of their problems.
You Spend Less To Drive Leads With Content Marketing
By definition, high-quality leads are people coming to your brand and content who have a high chance of becoming customers. On average, content marketing costs 41% less than paid search, and marketers that blog get 67% more leads per month than those who don't. Additionally, calls-to-action (CTA) placed directly in your content can generate new leads for your sales team. The more delighted a visitor is with your content, the more likely they are to click your call-to-action and move onto your landing page. Search engine optimization and content are a powerful combination. The keywords of different types can bring in leads at different stages of the buyer's journey.
Content Marketing Costs Less Than Traditional Marketing
Not only does content marketing cost 62 percent less than traditional marketing, but it also generates more than three times as many leads per dollar spent. Brands that are willing to invest in high-quality content can reap the rewards of increased content marketing ROI thanks to their efforts.  The main cost of content marketing Is the up-front expense of content creation. Multiple studies have found that the ROI of content marketing easily outpaces that of traditional advertising. On average, companies with blogs generate 67% more leads, earn 97% more inbound links, 55% more visitors, and 434% more indexed pages in Google.
How Do Brands Target SEO (Search Engine Optimization) In Content Marketing?
Content marketing and SEO are natural complements of each other. They both fuel each other and act as the necessary gears of any successful digital marketing campaign. The goal of SEO is to get the right eyes on the right piece of content, each time. Through targeted optimization, technical tune-ups, and regular adjustments to these things, an SEO expert helps drive traffic through more organic sources, like search engines. Content marketing is precisely what it implies: marketing using content. It is the basis of all sorts of digital marketing campaigns. That blog post from last week can be used on social media platforms to gain more traction, but the real rocket fuel of most content marketing is the SEO work done in the background.
Consumers Prefer Content Marketing — They Would Much Rather See Content Than Ads
People are blocking ads on their computers, more than 290 million active users per month.  Marketing cannot look the other way.  This generation has entirely different expectations, habits, and perspectives that affect their buying decisions. Today's consumers do research before making a purchase.  They like to be informed about the best options and they prefer to shop with brands they like and trust.  Content marketing addresses all of these things.
97% Of Businesses Are Using Content Marketing
If you're not on board with content marketing, this may be the year to create your content marketing platform. You definitely want to keep ahead of your competitors!
Some of the things content marketing will help you accomplish include:
A robust online presence
More visibility in online search
More leads
A deeply engaged audience
More conversions and sales
If your business does not have a website and content, you are missing a big opportunity.
Content Marketing Adds Value To Your Website
Add content marketing and your website becomes valuable, useful, helpful, intriguing, and interesting. Visitors will want to stay to read your content.  It is relevant to their interests and problems. They will stay to learn. Consistency is key! Your website, if done right, should enhance your brand identity by incorporating persuasive messaging and effective photos and graphics that work to develop and sustain a long-lasting brand. This includes the mission, vision, and core principles of your business that can be used to connect with your audience and convince them to believe in your message. Your website and the content on it can always be relied on to set the tone of your core brand identity. With optimized content, your website becomes valuable to search engines, because entities like Google want to serve users helpful content.
Consistent Content Marketing Is One Of The Best Ways To Improve Customer Retention
Content marketing is by definition a nurturing marketing method.  It builds and establishes relationships with audiences.
Tips on how to best use content marketing for customer retention:
Publish High-Quality Content Consistently.
Gather and Use Customer Data.
Focus on Providing Value to Customers.
Keep Engaging With the Audience.
Personalize Content Marketing Campaigns.
Content marketing makes your website better because content marketing centers on your website, but you will get the benefits of building your authority on land you own, versus the rented real estate on social media platforms.
Contact us (859-904-8035) today to get started!
—
ABOUT MAIN STREET MARKETING
Since 2006, Main Street Marketing has been creating Internet Presence Solutions for small businesses mainly in the Cincinnati – Northern Kentucky area. Main Street Marketing uses internet marketing, search engine optimization, social media, lead generation, and video to create a true Internet Presence for its clients. When integrated correctly, this core group of services provide results together that none of the services could provide on their own or in phases.
>> Learn More