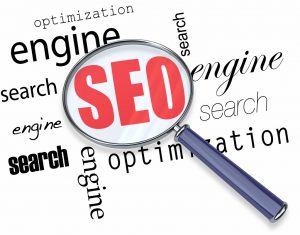 Not getting found online can break a business in this day and age. Optimizing your website and social media channels are the way you get found online. You want to optimize your website and social media channels to provide educational content to those in need of it. This content needs to be in many forms (blogs, audio, video, etc.) and integrated through social media with the intention to convert into customers those who are reading the content. With that said, anybody who tells you that SEO is dead is just "Loony Tunes." Over the years, Google has made many changes to their algorithm and we expect the changes to come more often as Google continues their quest to give you the most specific answer to your specific question via their search results.
SEARCH ENGINE OPTIMIZATION PREDICTIONS…
Time on Site (More Important) – There may not be a better way to see if people are using your content than how much time they spend on your site.
Social Media Signals (Less Important) – Remember how page title, description, and meta tags ruled the SEO landscape before content? These things were able to be manipulated so Google put more emphasis on content. Many social media signals, like social shares, can be manipulated. Also social media channels get hot and fade away. Some social media (Facebook) is in direct competition with Google and do you think Google will continue to give that platform any manipulation on its search results over the long haul. We think not.
Bounce Rate (More Important) – If searchers are leaving quickly after checking out your site, then your content isn't hitting the mark for "good educational content."
Pagerank and Domain Age (Less Important) – If it's Google's intent to get the best content for a search then page rank for past searches or domain age just shouldn't matter. This one will just fade into the sunset and go out in a inaudible whimper over a period of time.
Content Freshness (More Important) – Things are moving quick these days and content needs to be fresh to be valued and trusted.
Inbound Links (Less Important) – Links are important but they have been and continue to be manipulated. That's why I feel inbound (back) links will be downgraded in importance for the future.
Mobile Ready Content (More Important) – Your content has to look good on PCs, tablets, and smart phones to be valued by Google.
Content with Multimedia (More Important) – Content with multimedia (video, graphics, and/or audio) will get better rankings than blogs with just words and images. All should be optimized for SEO and the individual pieces can be used on separate marketing channels, as well as together for a cumulative effect for those who are absorbing your content.
Transparent Unbiased Thorough Content (More Important) – If your content comes across as promotion heavy, sales copy-like, or showing only one side of things, then it's not going to be valued by Google. Content that delves into issues head on and with a personality will get higher rankings.
All of these SEO predictions are influenced by Google's love for educational content over easily manipulated tactics and the move to different technologies (tablets & smartphones with high levels of bandwidth). You can really work backward from there to see why Main Street Marketing believes this to be the future for SEO.
MARKETING: GETTING BACK TO BASICS
Strategically, the marketing world feels like it's becoming more simple in some ways. To be overly simple, you now need a website with great content that is also integrated with your social media channels, and email marketing capabilities. Marketing magic happens when you find the right mix for your company and it's our belief that almost all small businesses need help with creating the marketing pieces (especially the content) and finding the right mix.
Our Internet Presence Package is a combination of marketing strategies that helps your company convert its prospects into customers.
Contact us (859-904-8035) today to get started!
—
ABOUT MAIN STREET MARKETING
Since 2006, Main Street Marketing has been creating Internet Presence Solutions for small businesses mainly in the Cincinnati – Northern Kentucky area. Main Street Marketing uses internet marketing, search engine optimization, social media, lead generation, and video to create a true Internet Presence for its clients. When integrated correctly, this core group of services provide results together that none of the services could provide on their own or in phases.
>> Learn More