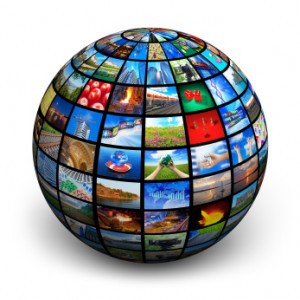 Videos cut through the digital noise of the internet by requiring a viewer's full attention. In a minute, sometimes less, a video can convey a message that will take paragraphs and paragraphs to explain. Content marketing began with text blog posts but will now morph into text blog posts with video and maybe even an infographic. The content simply has to be better since there is more competition on the internet. Those who know how to use text, video, and images together and separately are going to be those who thrive in this next phase of content marketing.
Need Some Proof?
Dr. James McQuivey of Forrester Research says that a one minute video is worth 1.8 million words (about 3,600 web pages).
According to comScore, which measures online engagement and use, 45.4% of Internet users view at least one video online every month.
75% of executives told Forbes that they watch work-related videos on business websites at least once a week.
STOP! Did you catch that?… 75% of Executives Watch Work Related Videos at Least Once a Week!
This statistic tells most small businesses all they need to know about video. Create a video or video series and you can engage with busy executives who are specifically looking for solutions to their problems. You have a lead generation machine on your hands if you can find the right executives to attract to your website or email. They aren't going to surrender an hour to hear your presentation but they'll give you a minute. This minute could buy you 30 minutes or an hour meeting or maybe your video can close them right there and then!
Small Businesses Can Play The Video Game
Main Street Marketing suggests Small Businesses need the following videos….
Company Overview Video (1-2 minutes) – Buy a video marketing package so you can record video interviews of your key employees talking about why your company is different than the competition. They should also briefly explains your company's services/product categories. While filming the key employee interviews, the video production crew should get some video of building, offices, and staff at work.
Animated Explainer Videos – Create an animated explainer video for each of your services and/or product categories to explain why the services and products are needed and why they are best.
Client Testimonial Videos – As part of your video marketing package, record video testimonial sessions with at least 3 of your clients. Interview them about why they choose your company, what you do for them, and the results. After the sessions are recorded, create 3 different 1 minute testimonials and then one 2 minute testimonial compilation video that contains highlights of all your testimonial sessions. After these recording sessions are completed, some of the footage can be used in new iterations of your Company Overview Video.
Self-Generated Video – Have key staff make videos usually under 3-5 minutes that educate your prospects about what you all do for your clients. Don't worry about video quality. If you are providing informative and helpful videos, the amateur nature will be fine and sometimes even will produce more trust. Error on the side of a good microphone. They have to be able to hear what you say.
Learn More About Main Street Marketing's Video Services
So if you follow this video plan you'll have enough video to arm your sales and marketing teams to use video in all their sales and lead generation activities! This will allow you to have a video in basically every blog you post and allow you to have a library of videos to share on social media.
Contact us (859-904-8035) today to get started!
—
ABOUT MAIN STREET MARKETING
Since 2006, Main Street Marketing has been creating Internet Presence Solutions for small businesses mainly in the Cincinnati – Northern Kentucky area. Main Street Marketing uses internet marketing, search engine optimization, social media, lead generation, and video to create a true Internet Presence for its clients. When integrated correctly, this core group of services provide results together that none of the services could provide on their own or in phases.
>> Learn More